As in many genres, the sharpness of your image is key with cityscape photography. The sharpness of an image really brings out the detail of your subject and can help those viewing your photo, feel as they could reach out and touch the city skyline. But how can you achieve a super sharp cityscape photo? So many things come into play, including the time of your shoot, the amount of available light, the weather and so much more. Here is how you can be sure you will get the sharpest cityscape photos:
GET SOMEWHAT CLOSE TO YOUR SUBJECT AND USE A WIDE ANGLE LENS
Many times, cityscape photographers head to a location just outside of the city they want to photograph because they can't get their entire subject into the frame using the lens they have. Instead of doing this, choose a shorter lens. Wide angle lenses can be best for a job like this. Using a wide angle lens can help keep your image sharper and is a great alternative to zooming or cropping in your post editing process. Choose a location inside of the city, but still a bit away from the skyline view. You will have a sharper final image with less zoom-associated noise. Be careful though. In some cases, wide angle lenses can give a soft appearance to the edge of your photo. You can combat this by changing the aperture. An aperture between f/8 and f/11 is perfect.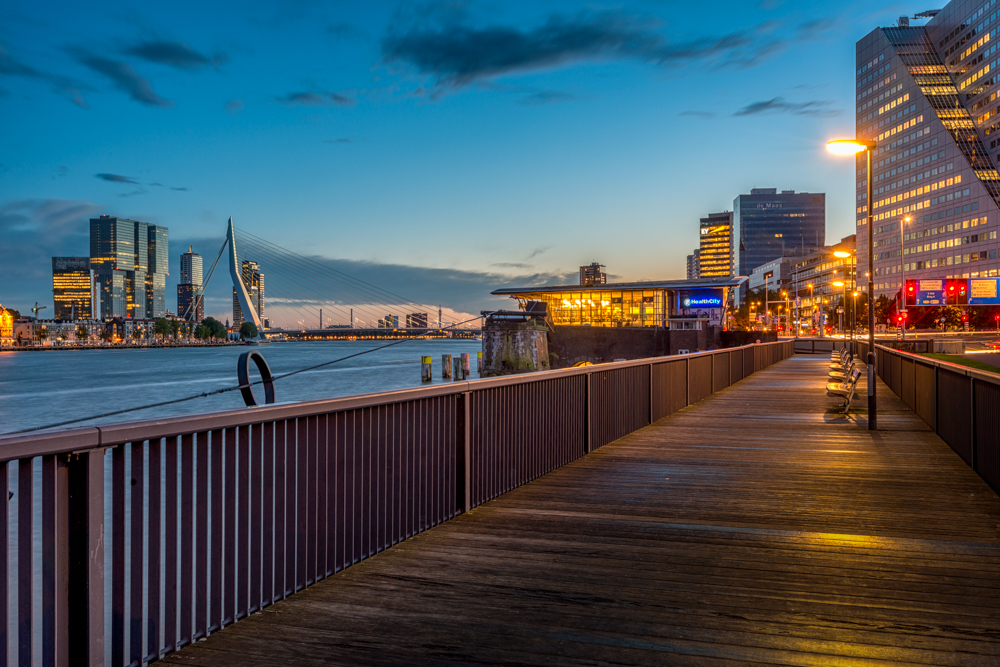 LOW ISO IS KEY TO THE PERFECT CITYSCAPE PHOTO
Cityscape photos of your city's skyline are almost always taken in low lighting because the buildings can either shine with the golden rays of the sun, or streets, signs and outdoor lighting can illuminate the night sky. During these times, better known as the Golden and Blue Hours, it is generally darker outside because the sky is being lit indirectly as the sun is setting or rising. Because it is darker, you will want to use a low ISO setting to shoot with. Your ISO determines how sensitive your camera is to light. If you give your camera a high ISO setting in a dark scene, it will soften your image with noise, which is hard to effectively clean up in post editing.
USE YOUR CAMERA'S MANUAL FOCUS
Manual focus can be difficult for some photographers to use and can be a less than convenient way to focus your shot. Instead of turning to autofocus, this time, take time to manually focus your shot. Manual focus allows you to really zoom in on buildings and their details to focus. You can do this on virtually any camera by entering live mode, zooming in on your subject and focusing your camera by hand. This will ensure you will get the best and sharpest image.
STEER CLEAR OF SHOOTING MOVING OBJECTS OR PEOPLE
Any photographer will say that moving objects can jeopardize a shot. Try to shoot your city in a way that doesn't include fast moving vehicles or lights. This can cause your cityscape photo to be a bit blurry, which can be creative, but not if you want a solid, sharp image.
CONSIDER USING HDR PHOTOGRAPHY TO CAPTURE THE CITY
High Dynamic Range (HDR) Photography is a style of photography where you can take several images of your cityscape at different exposure levels and blend them together in post editing to have a final photo with perfect exposure in all of the areas visible in your shot. This is useful if your cityscape has areas that are over exposed or under exposed. For example, you may get a tree line or a hill in your cityscape shot. Perhaps in the same shot you also can see one area of your city with more light than the others. Using your camera's auto exposure bracketing, or by changing your exposure settings between shots, you can take photos using each area's best exposure setting to create a really sharp image with even exposure. One tip to do this effectively is to invest in a tripod. You will want to get essentially the same shot at different exposures, so taking your phots by hand is out of the question because the slightest movement can throw your process off. Read this article to learn more about HDR photography.
ALWAYS USE A TRIPOD
Always use a camera tripod, even during the day. It is often said you can take photos by hand as long as the shutter speed is 1/50 or faster, but if check your photos carefully you can see a difference in sharpness between 1/50 or 1/400. So to be sure, always take photos from a sturdy tripod and use a remote shutter release.
If you follow these tips, you can be sure you will get the best and sharpest cityscape images possible.